Alpha Com Company Limited
The Soothsayer Predictive Maintenance and Machine Monitoring Solutions
The Soothsayer (Predictive Maintenance and Machine monitoring platform) is an AI system created by experienced engineer, IT and data scientist. The Soothsayer gathers machine's sensor data from clients and store in high security data storage then process to AI brain which contains complex algorithms from engineering knowledge by high experienced engineers and display its result on specific display for each client, when The Soothsayer found anomaly on machine, the alert will be automatically pop up to alert user and our engineer will contact client to describe its possible causes to inform next action need to prevent unplanned down time and optimize maintenance schedule to minimize impact on production. The Soothsayer provides end to end service since existing system readiness review, wireless vibration sensor installation, data integration to predictive maintenance system as well as machine monitoring and advisory service.
Value Proposition
"Problem Solved. Our Way"
Robust experience in oil and gas sectors.
Our team has the competency to Communicate effectively
Our output delivery seamlessly match the data we provide
We have perfected the formula for the machine-learning solution: Predict. Prevent. Save.
"Familiarity in Oil and Gas, Petrochemical, Refinery and Energy Sectors"  – Knowing our strength
It is no secret that our team members collectively have had robust experience working in the Oil and Gas , Petrochemical , Refinery and Energy sectors — and fortunately, this plays into our hands. Like hardened steels forged in fire, testing times and years of experience have led us to comprehend the inner workings of how mechanical components and systems operate, and the challenges which consistently surface in the industry. Our insight and research have led us to understand the demands for field experts and specialists who have the competency to communicate on the same level as experienced engineers in the Oil and Gas , Petrochemical , Refinery and Energy industry. In addition, the niche field of data science and algorithms requires delicate knowledge to command the complex nature of predictive maintenance software where the safety of multi-million dollar equipment relies on.
"Smartness Level" – Top of the class
With years in the making, and how our team of engineers, software experts, business development amassed their knowledge bank, we have refined the formula for the machine-learning solution. Growth is inevitable. The fact is, mechanical maintenance and all of its entailing techniques are constantly evolving — which is why it's crucial for you to stay up to speed. From corrective and reactive approach to mechanical maintenance to a time-based system, and now, with the emergence of analytics-based maintenance which currently sits at the top of the maintenance hierarchy, pinpointing mechanical errors and understanding the failures to overcome complex issues could be achieved more effectively and efficiently.
The integration of our data use and advanced predictive maintenance algorithm allow :
Our clientele of engineers to forecast possible failures with reliable accuracy
On ground engineers to avoid exposure to potential hazardous risks upon system assessment
Our clients to potentially streamline maintenance expenses and shutdown time by predicting the failures of prioritized components
**"Since 2014, The Soothsayer has effectively saved clients THB 60 Million USD Dollar and prevented weeks of unplanned shutdown."**
IBM Solutions Used
IBM Watson Machine Learning, Watson Studio, BM Cloud Functions, Cloud Internet Services, API Gateway, Cloud Object Storage, VPC, Virtual Server, Cloud Monitoring, Activity Tracker, Certificate Manager, Secret Manager, Key Protect, App ID
---
Solution Details
Country:
Indonesia
Malaysia
Philippines
Singapore
Thailand
Vietnam
Industry:
Energy
Manufacturing
---
Solution Specifications
Price Indicator – Provided upon request. Contact us – website : www.thesoothsayer.digital Email : patiphat.s@pttplc.com nutyatip.s@pttplc.com maturada_j@pttplc.com promporn_p@pttplc.com Terms – Can be provided upon request.
For more information, do contact us via the contact form available on this page.
Video –  The Soothsayer Corporate Video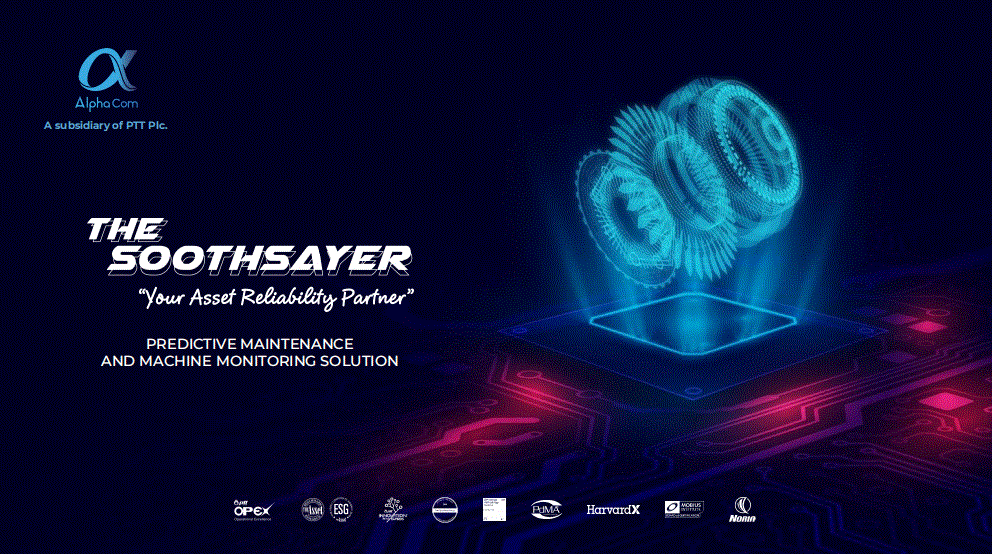 Download - Predictive Maintenance and Machine Monitoring Solution